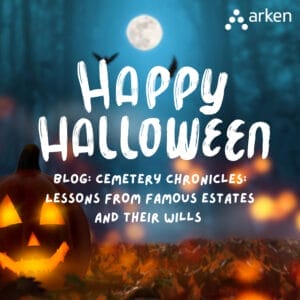 Spooky season is upon us, so take a walk with us around an eerily silent and weirdly misty graveyard. Beyond the epitaphs and tombstones here are famous historical figures, their Wills, and the scary stories behind them.
Robin Williams (1951-2014):
The dispute: After the beloved actor's death, a dispute arose between his widow, Susan Schneider Williams, and his children from previous marriages regarding personal items and memorabilia. In dispute was the provision in Williams's Will to provide for Susan to continue to live in the home they shared, though his children will also eventually inherit that home as well. The children thought Susan was "seeking to increase her share of the Trust assets at the expense of the Williams children." For her part, Schneider Williams was seeking to hold on to personal items from her and Williams's life together. Susan was described as 'greedy' by Williams's children. In return, Susan described her house being "invaded" by the children seeking to remove personal items without her permission.
The outcome: The parties involved reached a settlement out of court. Schneider Williams remained in the couple's home, and specific personal items were designated to both her and Williams's children. 
The lesson: Create a clear record of assets that are worth a significant amount of money and assign who they will be left to. 
James Brown (1933-2006):
The dispute: Under the terms of Brown's Will, the singer left most of his assets in a Trust to establish scholarships to underprivileged children in South Carolina and Georgia. It left little to his children and grandchildren and had been described as 'vague' – leading to it being heavily contested by his heirs. During the process it was found that Brown's wife could still be married to her previous partner, and a bitter battle ensued. 
The outcome: The South Carolina Supreme Court eventually ruled in favour of Brown's wife, declaring her marriage to Brown valid and recognising her as the widow. However, the case continued, and settlements were eventually reached among the parties involved, ensuring each party received a share of Brown's estate. It took roughly 15 years to settle his estate! 
The lesson: You can never be too clear and concise about your wishes. 
Heath Ledger (1979-2008): 
The dispute: After the untimely death of the legendary actor, there were concerns about his Will as it was made before the birth of his daughter, Matilda. Heath had left half of his estate to his sisters and half to his parents. It also listed his assets as only $145,000, a figure that was thought to be far too small. 
The outcome: Heath's parents and sisters agreed to leave his entire $16.5M fortune to his daughter, it has been placed in a Trust for her, ensuring she will be financially secure.  
The lesson: Encourage clients to update their Wills regularly. 
Anna Nicole Smith (1967-2007): 
The dispute: Smith was a Playboy model who married J. Howard Mashall, an oil tycoon who was 89 years old. Howard died 14 months after the couple had married and afterwards a contentious legal battle over his billion-dollar legacy began. Smith argued that although he didn't include her in his Will, Marshall intended to provide for her, but her stepson has other ideas and called her a "gold-digger" and fought her claims in court.  
The outcome: The case went through multiple courts, with varying verdicts. Initially she inherited $474M but ultimately, in 2014, the U.S. Supreme Court ruled that she was entitled to nothing from her late husband's estate. 
The lesson: Encourage family members to talk about what is in their Will and keep it updated, especially after big life events like getting married. 
Signing off With Some Halloween Puns…
No tricks here, only treats – Arken Legal provides professional estate planners with the perfect 'Witches Brew' of software products. It's a real graveyard smash and helps you drive efficiency, reduce haunting errors and delight clients. So why get spooked by a mountain of paperwork when you can use Arken Legal's fang-tastic products?.. Ok, I'll stop.