Draft Documents in Minutes
Digitise your business with trusted estate planning and Will writing software that increases efficiency, productivity and consistency.
Built by Lawyers, Inspired by Technology.
We've Helped 6,000+ Users Draft 7 Million Wills
The Perfect Solution For…
Technology for Change, Efficiency and Strategic Planning
Arken works with you to build streamlined processes for your team. Our estate planning product suite enables you to achieve more in less time, enhance risk management activities and develop strategies for the future. Arken has worked with 1000's of users across the globe, we've seen it all, and are well placed to assist you in achieving your goals.
Book a Demo
Trusted Digital Solutions
Our industry leading products enable you to grow, protect and future proof your business.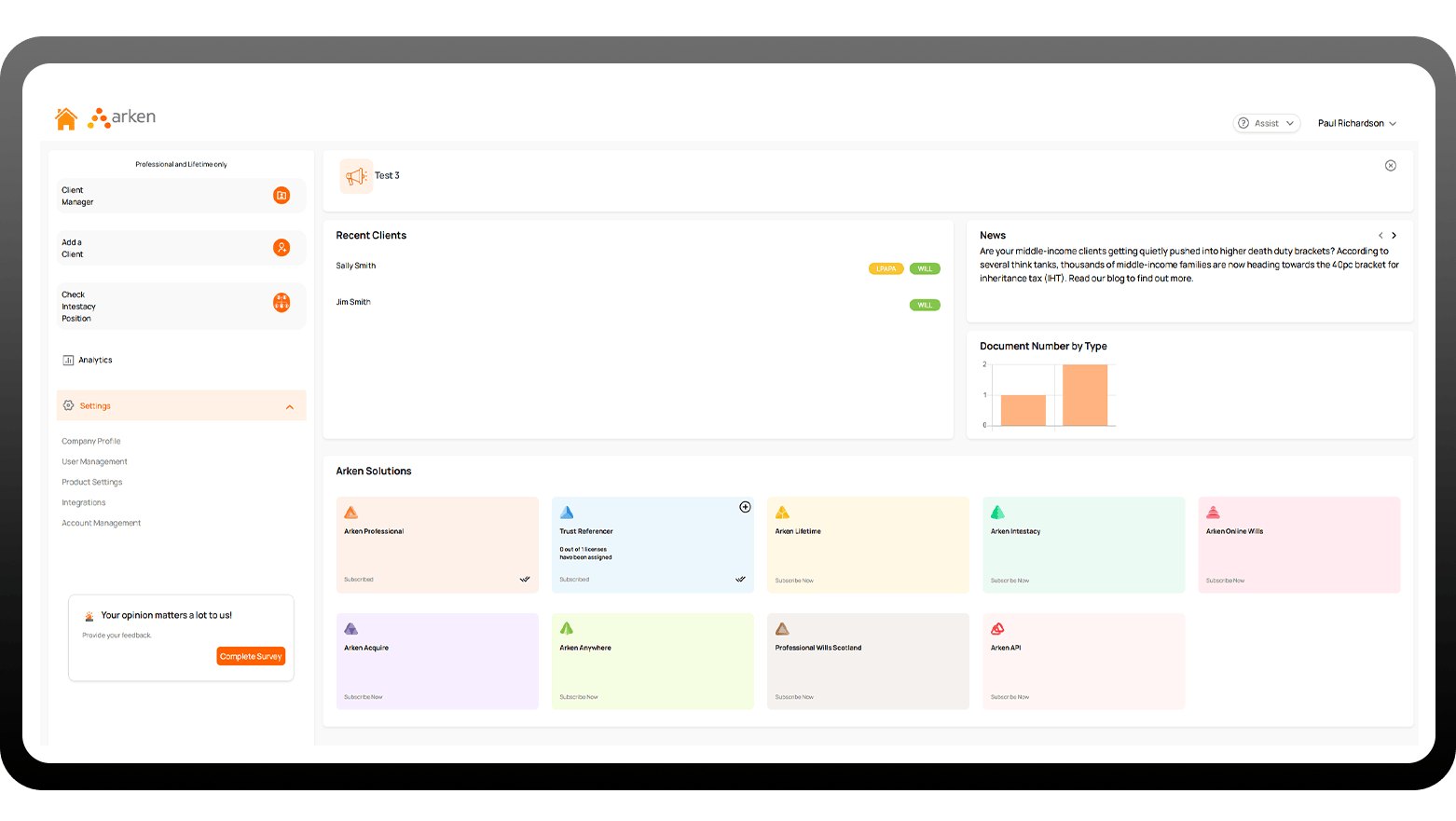 Admin Taking Hours?
Not Anymore
Let Word documents, time-consuming re-keying, and conflicting document and writing styles be a thing of the past. There's a better way.
Reduced re-keying
Faster turnarounds that keep clients engaged
Streamlined processes
Consistent output
Work anywhere, at any time
How Arken Helps you Draft Wills,
LPAs & Other Associated Documents
10x Faster
Using an intuitive questionnaire, our Will writing software guides you through the document building process. With in-built controls and a dual-screen for live drafting, you can review your work in real-time. The intelligent software automatically adjusts the format, clauses and bespoke commentary.
Draft Wills, Lasting Powers of Attorney (LPAs), Severance of Joint Tenancy (SJTs), Expression of Wishes (EWs), Expression of Wishes to Guardians (EWGs), Advance Decisions (ADs) and General Powers of Attorney (GPAs) in just a few minutes.
<
How Much Time and Money Can Arken Save You?
How many Wills do you draft per month?
What percentage of Wills are simple wills?
Using your current drafting methods:
Time per simple will

Time per complex will
What is the annual salary per drafter?
Book a Demo
Testimonials
"Following a well-planned and successful implementation, we are delighted to see how the Arken software has enabled us to streamline our approach to Will drafting. We are now producing consistent Wills which use uniform clauses across all of our lawyers. The commentary document which complements the drafted Will is extremely helpful to our customers."

"Arken's Will Writing Software helps us to effectively manage our precedents, provide a better client experience and unify our processes across our offices. We are also able to draft our documents much faster than before and Arken's wider toolset has helped us streamline in more areas and create better looking, comprehensive outcomes for our clients."

"Arken Professional has significantly improved the speed in which I'm able to produce Wills and associated documents, but without compromising on quality. Saving time re-keying data and ensuring consistency across documents has allowed me to focus on other important areas such as client retention and new business."

"We did a careful review of available solutions and chose Arken, as it has a very user-friendly and intuitive user experience, helped us with an improvement in our working practices, introduced time efficiencies and facilitated our ability to standardise our processes and mitigate our risks. The support team at Arken are excellent – very responsive and invested time to understand our needs. We had extensive support before and after going live. Arken is very easy to use, the templates are consistent and we have reliable support." 

"Arken is an absolutely fantastic tool. It is extremely easy to use and has helped our practices in Will drafting to a huge extent. I could not be without it now. I would recommend to any legal specialist looking to invest in Will writing software. Very cost effective too." 

"Arken is really easy to use and there is a wealth of training and material to help new users. In particular, our Trainee solicitors find the software easy to use and drafting Wills has become a much smoother and more streamlined process. The commentary explaining the Wills really helps our client's to understand the documents presented to them. In addition, the ability to tailor the clauses and commentaries for the circumstances we often come across makes drafting Wills quicker and more accurate. We have seen the biggest difference in drafting Lasting Powers of Attorney, particularly when drafting multiple documents for clients and/or married couples."

"Arken Professional is the superior product in the market. We've used other solutions before, but nothing can compare to its quality, efficiency and flexibility."

"I have been using Arken Will writing software for a number of years, and have found it excellent, and easy to use. The support from the office has been exceptional whenever I have needed it, with a quick response and great patience at times. I would certainly recommend the software and also the company without any hesitation."

"The whole team have found the Arken system very easy to use and it is very user friendly. The initial and ongoing support and training provided is excellent. Using the system saves a lot of time on data inputting, especially on the LPA drafting. It produces clear explanatory documents for all our Clients to understand. I would highly recommend the system." 

"We have found Arken to be a valuable tool for our private client team in terms of efficiency and consistency and we would highly recommend it to law firms looking for a professional solutions."

"From the moment I made a career and commercial decision to move from Financial Services into Will Writing full time, the transition has been smooth, enjoyable and very interesting.  This has been achieved quite simply due to the support mechanism that Arken and its delightful and approachable team provide.  "Nothing" is too much trouble and they never make you feel like a nuisance, in fact, you come away from ALL calls feeling proud to be part of their organisation as a client.  In particular, like many have their own personal testimonials to share."
Sign up to our Newsletter
Monthly insights, training webinars, and expert guides landing directly in your inbox.