A Helping Hand When You Need It
Our support team are available 9-5, Monday-Friday to help with any questions you have.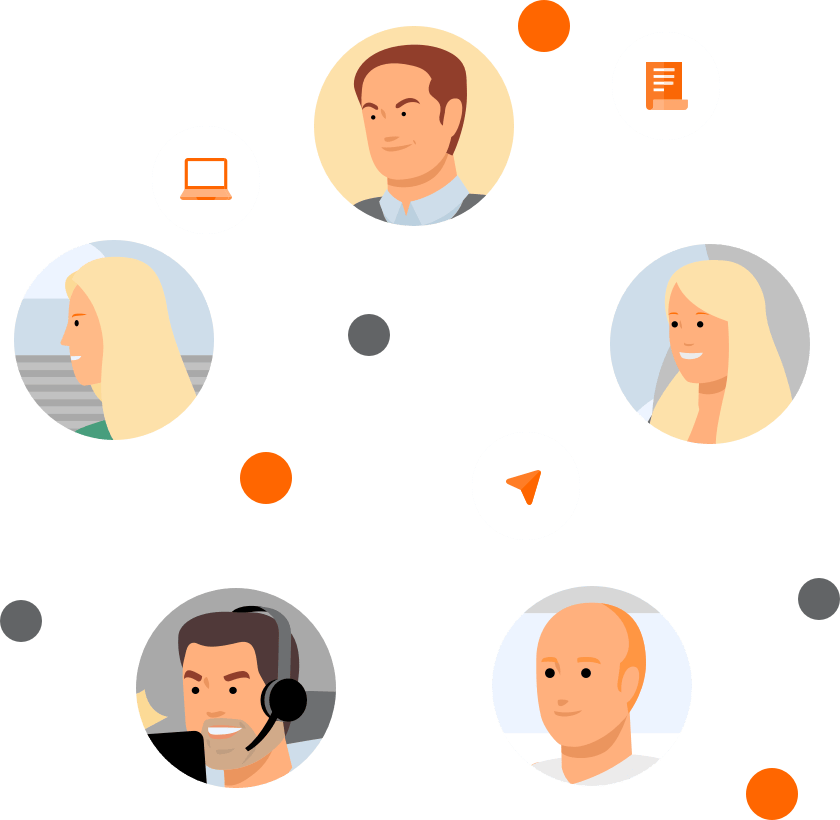 Serious About Service
At Arken, we're serious about service and like to put the client at the heart of everything we do.
We support our customers in a variety of ways.
Firstly, our support team is available via phone, email, or online chat. We also have our dedicated Customer Success Managers, who help with onboarding, on-going training, advanced training and provide strategic support for your technology needs.
We have over 50+ pre-recorded how-to-videos that our clients can access via their management dashboard too, with short instructional videos and long case study style training videos.
For more information about our support services, feel free to reach out to us.
How To Videos
We have over 50+ pre-recorded how-to-videos and webinars, available 24/7.
The videos cover a range of topics, from short demonstrations to in-depth training. As a client, you can access the how-to-videos via your dashboard, simply click on the 'assist' button in the top right hand corner.
Remote Access
Sometimes to assist you, we'll need to access your screen remotely. Don't worry, we only do this with your permission!
If you are asked to do this by a member of the Arken Support team, please enter your ID in the box.
Need help? Get in touch!
9am – 5pm Monday to Friday
Give us a call
+44 (0) 1732 867792
support@arken.legal
Message us
Use our online chat function in the bottom right hand corner
Regular Training
The Arken team run regular monthly training sessions, which we encourage our clients to join. We also regularly run webinars on industry challenges, new products, the latest innovations and more. We recommend our clients sign up to our monthly newsletter so they don't miss anything!
Our Implementation Methodology
From simple to complex roll-outs, we've seen it all! Our trusted implementation methodology is designed using this experience, and guarantees the software is utilised effectively for you and your team.
Agree
In the first meeting, your new Customer Success Manager will work to agree your current and future business objectives. Making sure we align our services with your needs and agree on an implementation plan.
Discovery
Your Customer Success Manager will organise new user training for you and your team, double check your system is set up correctly, and make sure you have access to the support team. 
Ownership
Next, your Customer Success Manager will run through some usage reports with you. This will provide you with an overview of what documents have been created and by whom. Helping review, if and where, more support or training is required.
Purpose
As you and your team continue to explore Arken, our Customer Success Managers will revisit your purpose, have we helped you to achieve your business objectives? 
Time
Your Customer Success Manager will set up regular engagement calls, 6 monthly purpose reviews and reporting structures and find out how you would prefer to communicate moving forward.
Testimonials
"I have been using Arken Will writing software for a number of years, and have found it excellent, and easy to use. The support from the office has been exceptional whenever I have needed it, with a quick response and great patience at times. I would certainly recommend the software and also the company without any hesitation."

"The whole team have found the Arken system very easy to use and it is very user friendly. The initial and ongoing support and training provided is excellent. Using the system saves a lot of time on data inputting, especially on the LPA drafting. It produces clear explanatory documents for all our Clients to understand. I would highly recommend the system." 

"Arken's Will Writing Software helps us to effectively manage our precedents, provide a better client experience and unify our processes across our offices. We are also able to draft our documents much faster than before and Arken's wider toolset has helped us streamline in more areas and create better looking, comprehensive outcomes for our clients."

"We did a careful review of available solutions and chose Arken, as it has a very user-friendly and intuitive user experience, helped us with an improvement in our working practices, introduced time efficiencies and facilitated our ability to standardise our processes and mitigate our risks. The support team at Arken are excellent – very responsive and invested time to understand our needs. We had extensive support before and after going live. Arken is very easy to use, the templates are consistent and we have reliable support." 

"Following a well-planned and successful implementation, we are delighted to see how the Arken software has enabled us to streamline our approach to Will drafting. We are now producing consistent Wills which use uniform clauses across all of our lawyers. The commentary document which complements the drafted Will is extremely helpful to our customers."