Will Writing Software
- 10x Faster Drafting
Arken Professional, Arken's Will writing software, removes the administrative burden of drafting Wills, drives efficiency and consistency, mitigates the risks of inaccuracies, and improves your team's productivity.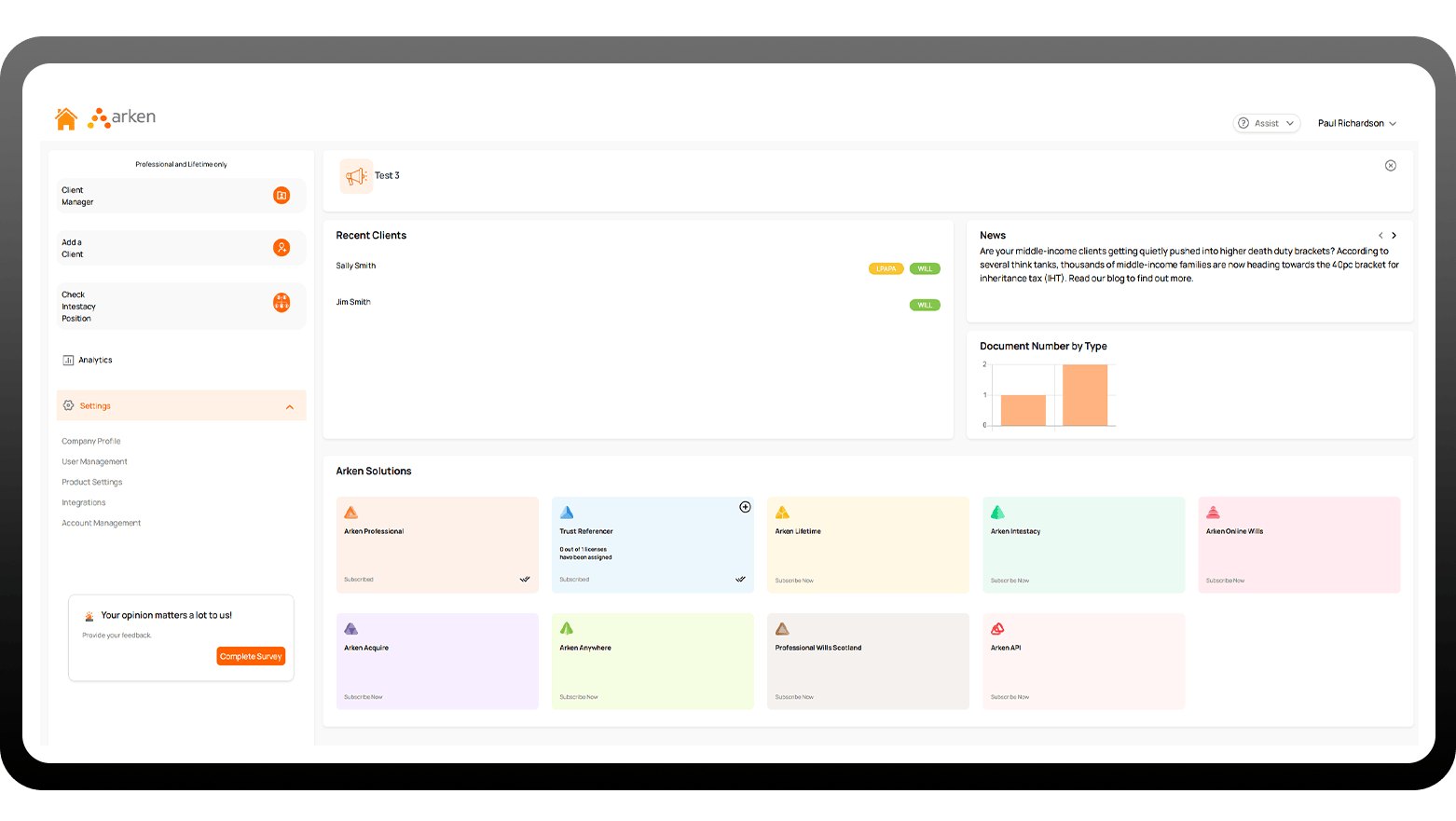 Save Time
Manage Risk
Delight Clients
Arken was created to support in the writing of Wills and associated documents including Lasting Powers of Attorney (LPA), Severance of Joint Tenancy (SJT), Expression of Wishes (EW), Expression of Wishes to Guardians (EWG), Advance Decisions (AD) and General Powers of Attorney (GPA) for their clients. With Arken you'll save time managing precedents, writing commentary and re-keying data, helping to improve accuracy and consistency across your firm.
The wide and comprehensive use of Arken in estate planning document creation means it has been tested in almost every conceivable scenario. We've helped professionals draft over 7 million wills to date, so you can have confidence it leads the way with complete industry functionality whilst remaining easy to use.
Complex Drafting Made Easy
Increase Profitability and Productivity
Wills are drafted 10x faster than traditional methods at a low cost per document and re-keying is dramatically reduced. Throughput increases and staff utilisation is maximised
Minimise
Risk
Consistency of documents is achieved throughout your practice, data is securely stored in the cloud and in-built controls like mandatory fields and password protection, further protect your operation. Content is regularly and seamlessly updated with regulatory change
Digitise Your
Business
Access your drafting anywhere on any machine. Position yourself as a forward thinking organisation to attract the upcoming generations and future proof your business for the digital revolution in this sector
Delight Your
Customers
Deliver a faster client turnaround to help keep them engaged with the process, and offer a comprehensive pack including a client friendly commentary, personalised cover sheets, and additional documents including signing instructions and an assets and liabilities record
Intelligent Questionnaire
With our questionnaire style workflow to support you, drafting simple and complex Wills has never been easier. Dramatically speed up the process with incomplete answer alerts, built-in clauses, and dynamic changes.
Only asks relevant questions
Automatically adapts questions
Alerts you to incomplete answers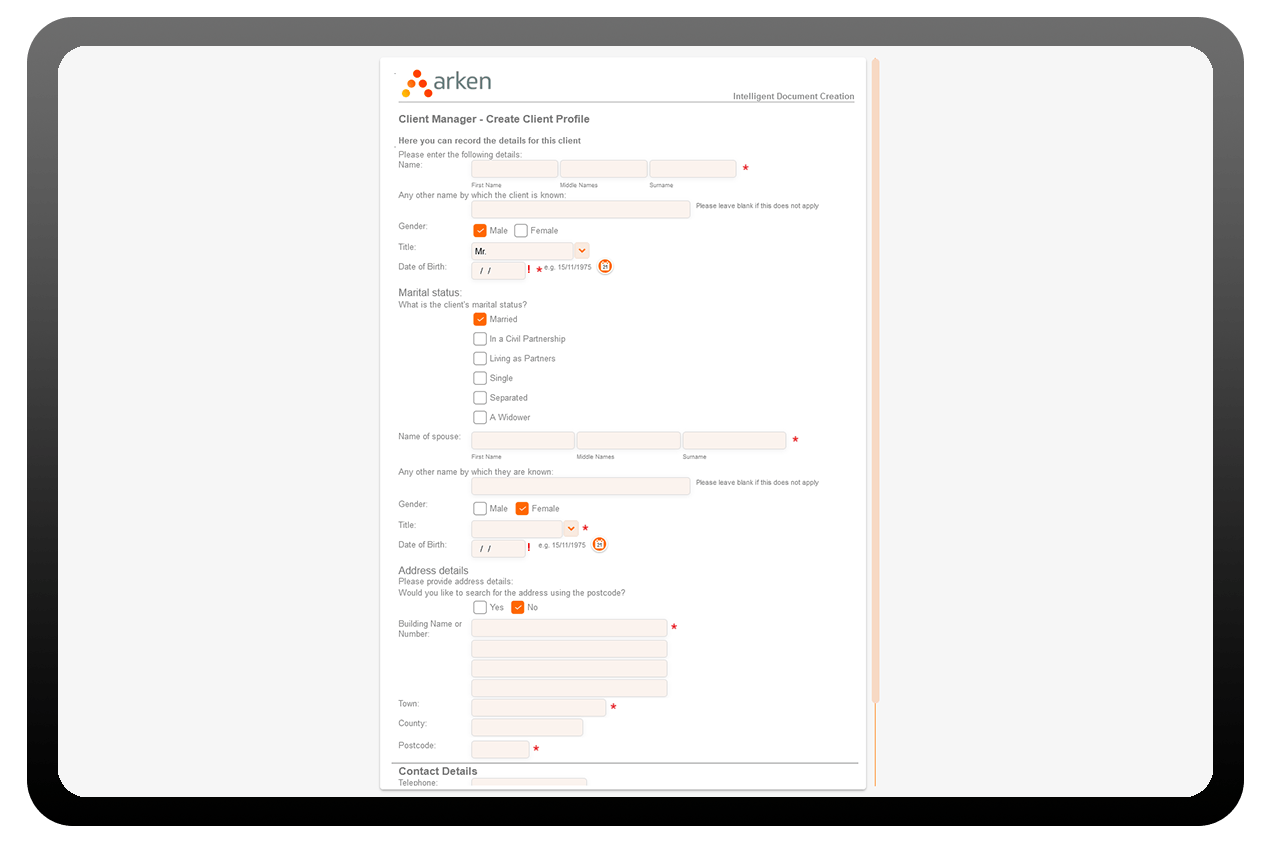 Automatic
Drafting
As you make choices, your Will, LPA, Expression of Wishes, or other documents automatically update on a dual-screen, allowing you to review as you draft. Plus, the software simultaneously builds a bespoke, client-friendly commentary and cover sheet.
Automatic real-time drafting
Automatic bespoke client commentary
Controlled editing function
Document
Packs
Offer your clients a comprehensive service with a document pack, including the Will, signing instructions, cover sheet and customised commentary in plain English. Other documents include a copy and draft pack, assets and liabilities report, and a download of the questionnaire as completed for the client, all as pdf files.
Automatic document packs
Engrossment, copy & draft packs
Customise to match your branding
Download The Full Capabilities Brochure
View or download this brochure to read more about the capabilities of Arken's Will writing software, Arken Professional.
<
How Much Time and Money Can Arken Save You?
How many Wills do you draft per month?
What percentage of Wills are simple wills?
Using your current drafting methods:
Time per simple will

Time per complex will
What is the annual salary per drafter?
Book a Demo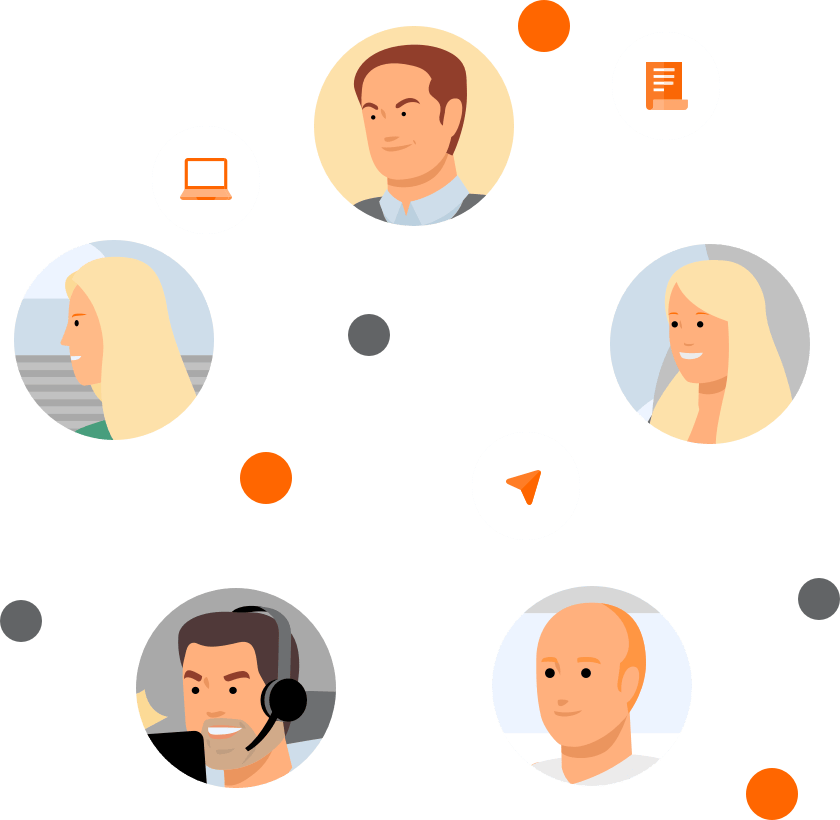 You're In Safe,
Supportive Hands
Adopting new technology doesn't have to be time-consuming or painful. With your very own Customer Success Manager, 50+ how-to videos, monthly training, and expert support through multiple channels, digitising your practice using Arken is easy.
Testimonials
"Arken is an absolutely fantastic tool. It is extremely easy to use and has helped our practices in Will drafting to a huge extent. I could not be without it now. I would recommend to any legal specialist looking to invest in Will writing software. Very cost effective too." 

"Arken's Will Writing Software helps us to effectively manage our precedents, provide a better client experience and unify our processes across our offices. We are also able to draft our documents much faster than before and Arken's wider toolset has helped us streamline in more areas and create better looking, comprehensive outcomes for our clients."

"We did a careful review of available solutions and chose Arken, as it has a very user-friendly and intuitive user experience, helped us with an improvement in our working practices, introduced time efficiencies and facilitated our ability to standardise our processes and mitigate our risks. The support team at Arken are excellent – very responsive and invested time to understand our needs. We had extensive support before and after going live. Arken is very easy to use, the templates are consistent and we have reliable support." 

"Following a well-planned and successful implementation, we are delighted to see how the Arken software has enabled us to streamline our approach to Will drafting. We are now producing consistent Wills which use uniform clauses across all of our lawyers. The commentary document which complements the drafted Will is extremely helpful to our customers."

"Arken Professional has significantly improved the speed in which I'm able to produce Wills and associated documents, but without compromising on quality. Saving time re-keying data and ensuring consistency across documents has allowed me to focus on other important areas such as client retention and new business."

"Arken Professional is the superior product in the market. We've used other solutions before, but nothing can compare to its quality, efficiency and flexibility."

"I have been using Arken Will writing software for a number of years, and have found it excellent, and easy to use. The support from the office has been exceptional whenever I have needed it, with a quick response and great patience at times. I would certainly recommend the software and also the company without any hesitation."

"The whole team have found the Arken system very easy to use and it is very user friendly. The initial and ongoing support and training provided is excellent. Using the system saves a lot of time on data inputting, especially on the LPA drafting. It produces clear explanatory documents for all our Clients to understand. I would highly recommend the system." 
Watch Us Draft a Complex Will
In Under 4 Minutes
Our research found that it takes 40+ minutes to draft a complex Will on average. Watch our team do it in under 4!
Watch webinar
Arken Product Suite
Arken provides a suite of products that help organisations in the Wills & Trusts industry innovate, digitise and achieve greater efficiency to compete in an ever-changing market.
Pricing Tailored
To You
We have pricing plans to suit a range of budgets. Whether you own a small firm or large enterprise, we're sure you'll find the perfect solution to suit you.
Want to See How Our
Will Writing Software Works?
FAQs
Got a question? See if we've answered it below and if not, get in touch! We love helping businesses understand the benefits of Arken.
England & Wales.
Arken.legal
also
provides
Will Writing software for Scotland, this is a separate product. 
Our in house Solicitors created and maintain our clauses. Having a maintained and well-written set of clauses reduces the risk of mistakes and saves you time. You can add your own additional clauses to your own clause library and use them as you see fit.
Experienced private client solicitors developed our clauses with input from leading academics and other practitioners. They have been reviewed and refined over 25 years, considering our user feedback. The clauses are regularly updated to take into account law changes and best practice development.
You can create extra paragraphs and save these in the system to put into documents. You can also edit any document using the controlled editing function.
Arken currently creates documents for England and Wales. We do have solutions for other territories like Scotland and Australia. We are working on launching Arken for other jurisdictions. Please
get in touch
if you require a product for a particular jurisdiction.
Yes. This is a separate product. Contact our sales team to learn more. 
Data is stored on Amazon's Web Servers, one of the leading Cloud service providers on the market for data security, management, and monitoring. 
All users will receive comprehensive training and support. There are monthly new user training sessions, which are run live, as well as regular complex case conundrum sessions which take clients through different scenarios for Will drafting
. 
Advanced training is also available upon request. 
Arken provides support through its internal support team, who can be contacted via telephone, email or online chat. 9-5, Monday to Friday.  There are also many how-to videos available 24/7  and training courses that can be booked via the website. 
You can read more about our support services here.
Arken's
Will Writing software is available for a monthly fee and is charged
for based
on the number of documents you would like to produce per month. Please see our pricing page to learn more. 
Clients can have an unlimited number of users; charges are based on the number of documents produced per month. There is no
additional
charge for
additional
users to enable you to get all the necessary staff involved to speed up the process. 
Users can create: Wills, Lasting Powers of Attorney (
LPAs
), Severance of Joint Tenancy (SJTs), Expression of Wishes (EWs), Expression of Wishes to Guardians (EWGs), Advance Decisions (ADs) and General Powers of Attorney (GPAs).
There is a comprehensive customisation section within the tool for you to change the look and feel of your documents and personalise the cover sheet
.
All your documents will therefore be a consistent look and feel no matter who in the practice drafts them.